Sheet Music Online
http://www.sheetmusic1.com
Secure Server
https://ssl.sheetmusic1.com
All other site and info links at bottom of page
- Online since 1995 -
Christmas and Holiday
Gift Suggestions
The Very Best
Easy Piano Collections
---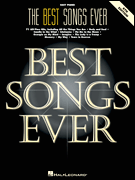 Best Songs Ever
Easy Piano
$19.95

Simple. Buy this collection, you will never need another, since these are the Best Songs Ever. . .! (who names these things. . . ?)
Arrangements are lower end of easy piano. For the most part, single notes in the left hand, but some chords as well. Rhythms can be tricky, so get this collection only if you (or the person you are buying for) is familiar with a lot of the songs.
As with all collections on this page, lyrics (words) are included, as well as chord symbols above the staff.

Contents:

a string of pearls
a time for us (love theme)
a whole new world (aladdin's theme)
all i ask of you
always
bewitched
blue skies
body and soul
born free
call me irresponsible
can you feel the love tonight
can't help falling in love
chariots of fire
climb ev'ry mountain
crazy
edelweiss
fly me to the moon (in other words)
from a distance
georgia on my mind
here's that rainy day
how deep is the ocean (how high is the sky)
i left my heart in san francisco
i write the songs
i'll be seeing you
imagine
isn't it romantic?
it might as well be spring
just the way you are
killing me softly with his song
let it be
longer
love me tender
lullaby of the leaves
memory
mona lisa
mood indigo

moon river
moonglow
moonlight in vermont
more (ti guardero' nel cuore)
my favorite things
my funny valentine
on the street where you live
people
piano man
satin doll
save the best for last
september song
some day my prince will come
spanish eyes
speak softly, love (love theme)
stardust
stormy weather (keeps rainin' all the time)
tears in heaven
the lady is a tramp
the rainbow connection
the sound of music
the way we were
three coins in the fountain
time in a bottle
top of the world
unchained melody
unforgettable
we've only just begun
what a wonderful world
what kind of fool am i?
when i fall in love
when you wish upon a star
where do i begin (love theme)
yesterday
you are so beautiful
you are the sunshine of my life
you've got a friend
| | |
| --- | --- |
| --- | |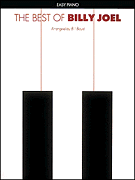 Billy Joel Best of
Easy Piano
$14.95

Both the Billy Joel and Elton John easy piano collections are in many respects better (in terms of arrangements) than the more advanced collections, IMHO. Strange, but true.

Contents:
and so it goes
baby grand
honesty
i go to extremes
innocent man
it's still rock and roll to me
just the way you are
keeping the faith
leave a tender moment alone
the longest time
movin' out
my life
new york state of mind
piano man
shameless
she's always a woman
she's got a way
tell her about it
uptown girl
we didn't start the fire
you may be right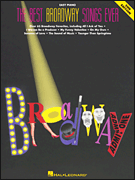 Broadway Best Ever
Easy Piano
$21.95

Easy arrangements of some classic Broadway songs. If you read bass clef OK, you will have no problem as the texture is kept fairly thin. Great collection if you are just getting into being comfortable playing (and reading) both bass and treble clefs.

Contents:
all i ask of you
all the things you are
and all that jazz
another op'nin', another show
as long as he needs me
being alive
bewitched
big spender
broadway baby
cabaret
camelot
climb ev'ry mountain
comedy tonight
don't cry for me argentina
don't rain on my parade
falling in love with love
getting to know you
hello, dolly!
hello, young lovers
how are things in glocca morra
i believe in you
i can hear the bells
i could have danced all night
i dreamed a dream
i wanna be a producer
i've grown accustomed to her face
if ever i would leave you
if i loved you
if i were a rich man
the impossible dream (the quest)
just in time
the lady is a tramp
luck be a lady
make believe
mame
memory
the music of the night
my funny valentine
my heart stood still
oklahoma
ol' man river
on a clear day (you can see forever)
on my own
on the street where you live
one
people
people will say we're in love
seasons of love
september song
she loves me
smoke gets in your eyes
some enchanted evening
the sound of music
sunrise, sunset
there's no business like show business
till there was you
tomorrow
try to remember
unexpected song
what i did for love
what kind of fool am i?
where is love?
where or when
who can i turn to (when nobody needs me)
you'll never walk alone
younger than springtime
| | |
| --- | --- |
| --- | |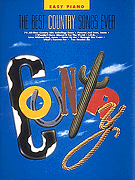 Country Songs Best Ever
Easy Piano
$17.95

Very large collection, easy arrangements suitable to someone gaining fluency playing both hands together and reading all notes on the Grand Staff. An overall quality collection without too many technical difficulties.

Contents:

a good hearted woman
a little good news
always on my mind
any day now
any time
behind closed doors
busted
could i have this dance
crazy
crying in the chapel
d-i-v-o-r-c-e
daddy don't you walk so fast
daddy sang bass
daddy's hands
detroit city
forever and ever, amen
friends in low places
from graceland to the promised land
funny how time slips away
god bless the u.s.a.
grandpa (tell me 'bout the good old days)
green green grass of home
he stopped loving her today
heartaches by the number
hello walls
help me make it through the night
hey, won't you play another somebody done somebody wrong song
honey (open that door)
i fall to pieces
i just fall in love again
i loved 'em every one
i was country when country wasn't cool
i wish i was eighteen again
i wouldn't have missed it for the world
i.o.u.
if we make it through december
islands in the stream
it was almost like a song
jambalaya (on the bayou)
king of the road

little green apples
lost in the fifties tonight (in the still of the nite)
love without end, amen
luckenbach, texas (back to the basics of love)
make the world go away
mammas don't let your babies grow up to be cowboys
my elusive dreams
nobody likes sad songs
paper roses
personally
put your hand in the hand
rhinestone cowboy
rocky top
ruby, don't take your love to town
she thinks i still care
sixteen tons
smoky mountain rain
some days are diamonds (some days are stone)
somebody's knockin'
son-of-a-preacher man
southern nights
stand by me
the tip of my fingers
through the years
to all the girls i've loved before
tobacco road
tulsa time
walking in the sunshine
walking the floor over you
welcome to my world
what a difference you've made in my life
what's forever for
you decorated my life
you don't know me
you look so good in love
you needed me
you take me for granted
your cheatin' heart
| | |
| --- | --- |
| --- | |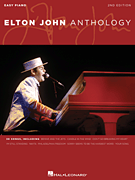 Elton John Anthology
Easy Piano
$14.95

This is the best Elton John easy piano collection in print. Very good arrangements, contains all lyrics as well as chord symbols above the staff. Clear on the page, even spacing.
Are there other EJ collections, with songs from some of his early classic albums? No. . . Elton John is surprisingly under-represented in print music, the same group of songs shuffled into similar collections. This is the most comprehensive collection in print, and I like it better than the piano/vocal (intermediate) collections, which are very uneven in format.

Contents:
bennie and the jets
blue eyes
burn down the mission
candle in the wind
crocodile rock
daniel
don't go breaking my heart
don't let the sun go down on me
empty garden
goodbye yellow brick road
honky cat
i guess that's why they call it the blues
i'm still standing
island girl
levon
little jeannie
madman across the water
philadelphia freedom
rocket man
sad songs say so much
saturday night's alright for fighting
someone saved my life tonight
sorry seems to be the hardest word
take me to the pilot
tiny dancer
who wears these shoes?
your sister can't twist
your song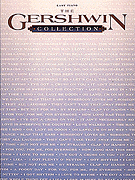 Gershwin Collection
Easy Piano
$12.95
SORRY, OUT OF PRINT

There are many Gershwin collections in print, this one is the best for easy piano. Some of the usual Gershwin songs have copyrights that go back to the 1930's, and most of these are terrible. Nice to see this collection!

Contents:
bess, you is my woman
bidin' my time
but not for me
by strauss
clap yo hands
do do do
embraceable you
fascinating rhythm
a foggy day
for you, for me, forevermore
how long has this been going on
i got plenty of nuttin'
i got rhythm
i love to rhyme
i've got a crush on you
it ain't necessarily so
let's call the whole thing off
liza (all the clouds'll roll away)
love is sweeping the country
love is here to stay
love walked in
the man i love
my man's gone now
nice work if you can get it
of thee i sing
oh lady be good
oh lawd, i'm on my way
real american folk song is a rag
s wonderful
shall we dance
slap that bass
somebody loves me
someone to watch over me
strike up the band
summertime
swanee
they all laughed
they can't take that away from me
a woman is a sometime thing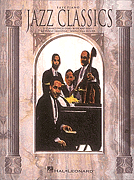 Jazz Classics
Easy Piano
$14.95

On the one hand, the arrangements are easy, in terms of technique. Fingerings are added a-plenty in most of the songs. On the other hand. . . the harmonies are accurate, so there are lots of sharps and flats.
Overall, a very good source for the listed songs, will give you some challenges in playing jazz-style chords, and bringing out the melody on those occasions where it goes from left hand to right hand. Also occasional crossing of the hands. Sounds good, fun, and great for increasing your ability in playing. Recommend!

Contents:
a night in tunisia
all the things you are
bewitched
bluesette
body and soul
call me irresponsible
can't help lovin' dat man
come rain or come shine
dancing on the ceiling
easy to love (you'd be so easy to love)
have you met miss jones?
hello, young lovers
how high the moon
i didn't know what time it was
i hear music
i'll remember april
isn't it romantic?
it could happen to you
just in time
love is here to stay
lover man (oh, where can you be?)
mona lisa
my funny valentine
my heart stood still
my old flame
out of nowhere
stella by starlight
tangerine
the blue room
the nearness of you
the song is you
the very thought of you
this can't be love
when i fall in love
you are too beautiful
you don't know what love is
you took advantage of me
Library Of Easy Piano Classics
Easy Piano
$24.95

This particular collection is mentioned elsewhere on this web site. Even has it's own page. The reason?
For easy classical piano, this is the best, most comprehensive collection I have found. Great (repeat, GREAT!) sounding arrangements, excellent clarity and spacing. There are a zillion easy classical books in print, and frankly, most are the same old mediocre arrangements shuffled into yet another glossy covered collection. This one's different.
Highest recommendation for this very large, spiral-bound collection. I've played through the pieces, my students have played from this (even intermediate level adult students love it), and we all give this one a big Thumbs-Up.
One caveat. . . The arrangements are not too easy. Many of them will require a bit of work. But, it's worth it, as the end result is satisfying to both the player, and the listener.

Contents:

Albéniz - TANGO
American Spiritual - DEEP RIVER
American Spiritual - LITTLE DAVID
American Spiritual - SWING LOW, SWEET CHARIOT
Arne - RULE, BRITANNIA
Carl Phillip Emanuel Bach - THEME from SOLFEGGIETTO
Johann Sebastion Bach - AIR ON THE G STRING (SUITE No. 3)
Johann Sebastion Bach - ARIOSO
Johann Sebastion Bach - SHEEP MAY SAFELY GRAZE from CANTATA No. 208
Beethoven - FUR ELISE (theme)
Beethoven - ODE TO JOY from SYMPHONY No. 9
Beethoven - from SYMPHONY No. 6 (PASTORAL SYMPHONY)
Beethoven - THEME from 5TH SYMPHONY
Beethoven - THEME from SONATA OP. 27 No. 2 MOONLIGHT
Beethoven - THEME from SONATA OP. 13 PATHETIQUE
Berlioz - THE SHEPHERDS' FAREWELL from THE CHILDHOOD OF CHRIST
Bizet - THEMES from CARMEN
Boccherini - MINUET
Borodin - THEME from POLOVTSIAN DANCES (PRINCE IGOR)
Brahms - GAUDEAMUS IGITUR from ACADEMIC FESTIVAL OVERTURE
Brahms - HUNGARIAN DANCE No. 5
Brahms - THEME from SYMPHONY No. 1
Brahms - THEME from VARIATIONS ON A THEME OF HAYDN (ST. ANTHONY CHORALE)
Chopin - PRELUDE Op. 28 #7
Chopin - TRISTESSE STUDY (ETUDE Op. 10 #3)
Clarke - TRUMPET VOLUNTARY Daquin - THE CUCKOO
Debussy - CLAIR DE LUNE
Debussy - GOLLIWOG'S CAKE WALK from CHILDREN'S CORNER
Delibes - WALTZ from COPPELIA
Delius - THEMES from LA CALINDA (KOANGA)
Dibdin - TOM BOWLING Dvorak - HUMORESKE
Dvorak - THEME from NEW WORLD SYMPHONY
Elgar - CHANSON DE MATIN Elgar - LAND OF HOPE AND GLORY (POMP AND CIRCUMSTANCE)
Elgar - NIMROD from the ENIGMA VARIATIONS
Elgar - THEME from POMP AND CIRCUMSTANCE MARCH No. 1
Elgar - THEME from CELLO CONCERTO
Emmett - DIXIE LAND
English Air - DRINK TO ME ONLY WITH THINE EYES
English Air - COUNTRY GARDENS
English Air - GREENSLEEVES
English Air - THE BRITISH GRENADIERS Fauré - PAVANE
Fauré - BERCEUSE
Fauré - PIE JESU from the REQUIEM
Fauré - SICILIENNE
Gossec - TAMBOURIN
Gounod - AVE MARIA
Grieg - MORNING from PEER GYNT SUITE
Handel - BOURREE and AIR from WATER MUSIC
Handel - THE HARMONIOUS BLACKSMITH
Handel - HORNPIPE from WATER MUSIC
Handel - LARGO from XERXES
Handel - SARABANDE from SUITE XI
Handel - SEE, THE CONQUERING HERO COMES from JUDAS MACCABAEUS
Handel - WHERE'ER YOU WALK
Handel - ZADOK THE PRIEST
Holst - I VOW TO THEE, MY COUNTRY (JUPITER from THE PLANETS)
Humperdinck - EVENING PRAYER
Ippolitov-Ivanov - PROCESSION OF THE SARDAR from CAUCASIAN SKETCHES
Irish Air - COCKLES AND MUSSELS
Irish Air - LONDONDERRY AIR
Irish Air - THE MINSTREL BOY
Liszt - LIEBESTRAUM No. 3 (NOCTURNE)

MacDowell - TO A WILD ROSE from WOODLAND SKETCHES
Mahler - THEME from DEATH IN VENICE (SYMPHONY No. 5)
Massenet - MEDITATION from THAïS
Mendelssohn - O, FOR THE WINGS OF A DOVE
Mendelssohn - ON WINGS OF SONG
Mendelssohn - WEDDING MARCH from A MIDSUMMER'S NIGHT'S DREAM (this is THE wedding processional)
Mozart - A MUSICAL JOKE (from K.522 last mvt.)
Mozart - ALLELUIA (Exultate, Jubilate)
Mozart - THEME from ELVIRA MADIGAN (Piano Concerto No. 21)
Mozart - THEME from SONATA IN C MAJOR (K. 545 1st. mvt.)
Mozart - THEME from SYMPHONY No. 40
Mozart - THEME from CLARINET CONCERTO
Mozart - THEMES from EINE KLEINE NACHTMUSIK (Serenade in G Major)
Mussorgsky - PROMENADE from PICTURES AT AN EXHIBITION
Offenbach - BARCAROLLE from TALES OF HOFFMAN
Offenbach - CAN-CAN from ORPHEUS IN THE UNDERWORLD
Pachelbel - CANON
Parry - JERUSALEM
Ponchielli - DANCE OF THE HOURS from LA GIOCONDA
Puccini - O, MY BELOVED FATHER from GIANNI SCHICCHI
Rossini - THEMES from THE BARBER OF SEVILLE
Rossini - THEME from WILLIAM TELL
Rubinstein - MELODY IN F (Op. 3 No. 1)
Saint-Saëns - THE ELEPHANT from THE CARNIVAL OF THE ANIMALS
Saint-Saëns - THE SWAN from THE CARNIVAL OF THE ANIMALS
Satie - GYMNOPEDIE No. 1
Schubert - AVE MARIA
Schubert - MARCHE MILITAIRE
Schubert - ENTR'ACTE AND BALLET MUSIC from ROSAMUNDE
Schubert - SERENADE
Schubert - THEME from the OCTET
Schubert - THEME from the UNFINISHED SYMPHONY
Schubert - TWO SONGS: ROSE AMONG THE HEATHER and TO MUSIC
Scottish Air - AULD LANG SYNE
Scottish Air - THE BLUEBELLS OF SCOTLAND
Scottish Air - CHARLIE IS MY DARLING
Scottish Air - THE SKYE BOAT SONG
Smetana - THEME from VLTAVA (Má VLAST)
Sousa - THE LIBERTY BELL
Strauss Sr. - RADETZKY MARCH
Strauss Jr. - THE BLUE DANUBE
Strauss Jr. - TALES FROM THE VIENNA WOODS
Sullivan - FOR HE IS AN ENGLISHMAN from H.M.S.PINAFORE
Sullivan - TWO TUNES from THE MIKADO
Sullivan - TWO TUNES from THE PIRATES OF PENZANCE
Tchaikovsky - DANSE DES MIRLITONS from THE NUTCRACKER
Tchaikovsky - THEME FROM ROMEO AND JULIET
Tchaikovsky - THEME from PIANO CONCERTO No. 1
Tchaikovsky - THEME from SWAN LAKE
Tchaikovsky - WALTZ from SWAN LAKE
Verdi - CHORUS OF THE HEBREW SLAVES from NABUCCO
Verdi - GRAND MARCH from AIDA
Verdi - LA DONNA E MOBILE from RIGOLETTO
Vivaldi - THEMES from THE FOUR SEASONS
Wagner - BRIDAL MARCH from LOHENGRIN (the! wedding processional)
Wagner - PILGRIMS' CHORUS from TANNHÄUSER
Wagner - SAILORS' CHORUS from THE FLYING DUTCHMAN
Warlock - PAVANE from CAPRIOL SUITE
Welsh Air - ALL THROUGH THE NIGHT
| | |
| --- | --- |
| --- | |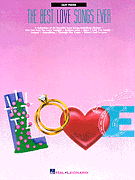 Love Songs, Best
Easy Piano
$17.95

Similar to the above sm-o-o-o-tch collection (heh-heh). Main difference is the contents (duh), but compare the contents of both before making a final decision. There is some overlap in contents (typical marketing tactic), and any song listed in one collection will be the exact same arrangement in the other. Get one or the other if you like, but unless I'm missing something. . . don't get both!

Contents:

(they long to be) close to you
(you're my) soul and inspiration
a love song
always
and i love her
and i love you so
anniversary song
anytime you need a friend
beautiful in my eyes
can you feel the love tonight
can't help falling in love
can't smile without you
could i have this dance
don't know much
endless love
falling in love with love
feelings (?dime?)
for all we know
forever and ever, amen
have i told you lately
how deep is your love
i just fall in love again
i love you
i want you, i need you, i love you
i.o.u.
if we only have love
if you remember me
isn't it romantic?
just the way you are
long ago (and far away)
longer
lost in your eyes
love is here to stay

love me tender
love takes time
loving you
misty
my funny valentine
p.s. i love you
saving all my love for you
sea of love
september morn
share your love with me
she believes in me
some enchanted evening
something
sunrise, sunset
the first time ever i saw your face
the last time i felt like this
the way we were
through the years
to love again
true love
try to remember
vision of love
what the world needs now is love
when i fall in love
when i need you
where do i begin (love theme)
woman
you give good love
you needed me
you've got a friend
your song
let it be me (je t'appartiens)
| | |
| --- | --- |
| --- | |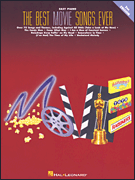 Movie Songs, Best Ever (2nd Edition)
Easy Piano
$19.95

Also a very large collection of favorite movie songs. Every bit as good as the above listings, make your selection based on contents, as the playing level is the same, around mid-easy.

Contents:
against all odds (take a look at me now)
alfie
all the way
almost paradise
beauty and the beast
big spender
bless the beasts and children
born free
call me irresponsible
can't help falling in love
the candy man
chariots of fire
cheek to cheek
chim chim cher-ee
circle of life
come saturday morning (saturday morning)
come what may
do you know where you're going to?
endless love
theme from e.t. (the extra-terrestrial)
everybody's talkin' (echoes)
(everything i do) i do it for you
flashdance...what a feeling
forrest gump - main title (feather theme)
high noon (do not forsake me)
i am a man of constant sorrow
i believe i can fly
i believe in you and me
i finally found someone
i will remember you
it must have been love
theme from 'jaws'
jessica's theme (breaking in the colt)
the john dunbar theme
let the river run
long ago (and far away)
the look of love
love theme
a man and a woman (un homme et une femme)
moon river
the music of goodbye
my heart will go on (love theme from 'titanic')
picnic
que sera, sera (whatever will be, will be)
raindrops keep fallin' on my head
say you, say me
somewhere in time
somewhere, my love
somewhere out there
speak softly, love (love theme)
love theme from 'st. elmo's fire'
star trek(r) the motion picture
summer nights
take my breath away (love theme)
tears in heaven
theme from 'terms of endearment'
that's entertainment
there you'll be
a time for us (love theme)
(i've had) the time of my life
true love
unchained melody
up where we belong
the way we were
the way you look tonight
where do i begin (love theme)
where the boys are
a whole new world (aladdin's theme)
you must love me
you'll be in my heart (pop version)
zip-a-dee-doo-dah
| | |
| --- | --- |
| --- | |
---
Don't feel like ordering from this page??
Click Here to be magically transported to our site search page where you can search
over 500 web pages of recommended music and products.
- - or - -
Click Here to search our separate SQL database.
---
Home | Benches Tuning Supplies Metronomes etc. | Downloads | Contact | Welcome | Gift Certificates | Categories
Database Search | Site Search | Empty Cart | View Cart | Check Out

Sheet Music Online - 5830 S.E. Sky High Ct. - Milwaukie, Oregon 97267 U.S.A.
(503) 794-9696




All contents of this website
Copyright ©
Sheet Music Online
http://www.sheetmusic1.com
---
Questions, Comments, or Suggestions??
Dr. Rein Peter Vaga, D.M.A. (drvaga@sheetmusic1.com)